Our foundation repair company in New Orleans, Louisiana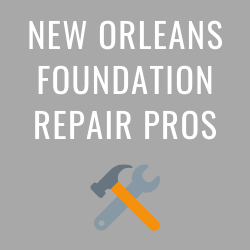 We provide affordable foundation repairs in New Orleans, give us a call any day of week at anytime. Foundation repair emergencies can happen when we least expect. 
Big New Orleans Foundation Repairs is a full-service concrete, masonry, and brick contracting company. We are a fully licensed and insured company made up of a team of basement contractors, foremen, structural engineers and other technicians.
We have been in business as a foundation repair company for more than 20 years in Louisiana Though we are headquartered in the great city of New Orleans, we assist all sorts of commercial and residential properties all across surrounding cities and towns as well.
Our process involves modern repair methods that deliver long-lasting results that always include a generous warranty. Services include: helical piers, wall anchoring, steel I-beams, steel push piers, plate anchors, hydraulic slab lifting, foundation brackets, and hydraulic cement, caulk, epoxy injections, mortar, polyurethane polymer and more for minor repairs.
We can give you a 100% free estimate, thorough inspection, along with a detailed repair plan if work is necessary for your foundation or crawl space. Give us a call right now to set an on-site appointment that fits within your schedule.
👇 Get a free quote now! 👇
Want a free inspection this week?
What are you waiting for? Call now to schedule a time!
We are available 24/7 to help.