House Leveling in New Orleans, LA
Expert structure lifting repair services
Have you noticed sinking, sagging, or uneven floors in your home? If so, the foundation, slab or crawl space may need to be lifted and repaired.
House leveling in simple terms is the process of a lifting a structure back to its original state – or close as humanly possible. This can be accomplished by any number of repair methods depending on the cause of the problem and the condition of the foundation.
Sinking can occur at one end of a home or at multiple locations. As a house sinks and settles, it may also shift and crack. Small hairline cracking is to be expected as part of the settling process. Larger cracks, however, must be addressed.
Our trusted house leveling contractors not only raise and restore structures, we also address the root of the problem to prevent similar damage in the future.
If you have an inkling that your foundation or slab is failing, call our fully licensed and insured house elevation professionals in New Orleans, LA for a free in-depth consultation and estimate if repairs are needed.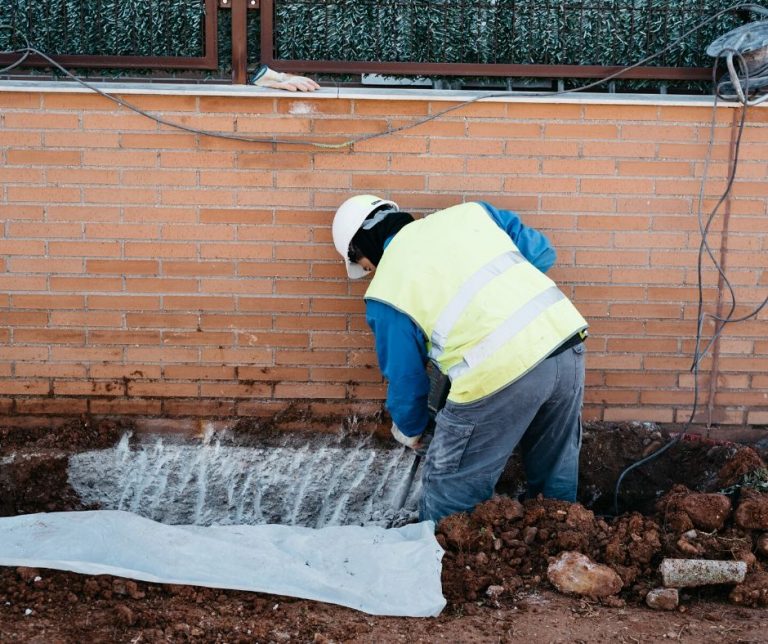 👇 Get a free quote now! 👇
Causes of cracking and sinking foundations
Foundation damage can be caused by any number of factors or a combination of factors. Damage typically occurs gradually, over the course of months and years, and is challenging to spot at first.
A sinking structure may be the result of an eroding foundation, structural damage, volatile soil conditions, poor exterior drainage, plumbing leaks and intruding tree roots.
Soil and moisture are often the culprits.
The soil on which the structure is built may be weak and unable to withstand the weight of a home. Soil may also expand and contract with changes in the weather and exposure to heavy water, causing the foundation to shift, bow, and crack in its unstable surroundings.
Plumbing leaks often occur under slab foundations, leading to lifting, sinking and other damage.
Affordable repair solutions
We fully investigate the state of your foundation and its surroundings to deliver repair work that will stabilize the structure for years to come.
After our thorough examination, we provide you a detailed report outlining problem areas and solutions that fit your budget and needs.
In addition to addressing the source of the problem (poor soil, extensive moisture, etc.), we offer these repair options for full basements, pier and beam foundations, raised basements, slabs, and crawl spaces:
Helical piers
Steel piers
Concrete pilings
Rods/braces
Mudjacking
Polyurethane and other chemicals
In some instances, exterior excavation may be needed to perform repair correctly. Most work, however, can be done through the interior walls without digging up your property.
To learn more about our affordable repair options, call our New Orleans foundation repair company today. Our representatives and contractors are friendly, knowledgeable and dedicated to giving you satisfying results.
Worried about the structural integrity of your home?
What are you waiting for? Call now to schedule a free inspection!
We are available 24/7 to help in New Orleans, Gretna, Kenner, Jefferson, Metairie, Terrytown and beyond.